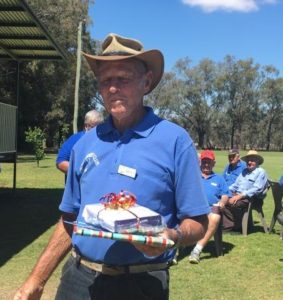 Week ending 18th November
When you are in the Forbes Croquet Club amazing things can happen. One of those amazing things was for the club members to celebrate the 90th birthday of Bruce Field. Bruce is a man who would outdo most 50 year olds when it comes to mobility and agility. He is a much loved and admired member of the club. Congratulations Bruce!
Other birthday celebrations this month is Dorothea Croker, Dorelle Scott and Bill Scott. A very happy birthday to you all. We also celebrated a welcome return to Veva MacCullagh who has been on the sick list for a while. Welcome back Veva! Three wins this week in Golf croquet went to Colleen Liebich, Marjorie Styles and Bruce Field.
'Beat the rain' was the name of the game when Saturday saw a turnout of 22 stalwart people, and beat the rain we did. Winners of their three games were Joan Littlejohn and Cherylin Cole.
By Anne Stewart