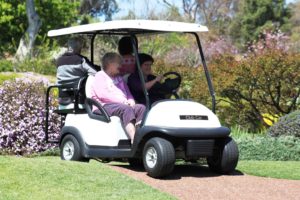 Residents of the Jemalong Residential Village (JRV) enjoyed a wonderful day out at the scenic Cowra Japanese Garden and Cultural Centre last Wednesday.
Transport was supplied to the 26 attendees courtesy of Forbes bus lines that generously provided a luxury coach for the occasion.
The residents were blessed with a perfect spring day allowing them to explore the beautiful gardens very conveniently in golf buggies. Residents also enjoyed wandering through the Cultural Centre and doing some sight-seeing in the gift shop.
Thanks to JRV fundraising volunteers who kindly sponsored lunch and the admission costs for the day, residents were able to take pleasure in dining at the cafe on site.
Volunteers including off-duty staff, assisted in various capacities to ensure that everyone had a fabulous time.
Merryl Morris, one of the lifestyle therapists at Jemalong Residential Village said: "Forbes is such a generous community and it is a pleasure to be able to offer special activities for our elderly."
"Everyone thoroughly enjoyed all aspects of the day out. The buggies were really good for getting around the five hectares of gardens and admiring the spring blossoms on a perfectly sunny day."
By Gizell van Wyk