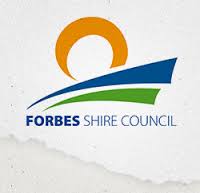 It has been a hard week for many residents who have been affected by the flooding. We are still on flood watch. Please remember to call the SES on 132 500 if you need help. The Emergency Operations Centre has been open in the Town Hall since Saturday. I would like to thank the services involved for doing a great job. It is heartening to see
all of the support. There have been many visits to Forbes this week. On Sunday, NSW Deputy Premier Troy Grant and Deputy Leader of the Nationals Senator Fiona Nash visited. On Monday, NSW Premier Mike Baird, Minister
Emergency Services David Elliott and SES Commissioner Greg Newton were here. Minister for Justice Michael Keenan arrived with Troy Grant and Greg Newton on Tuesday and announced disaster assistance for
flood-affected communities across NSW including Forbes.
Information on the assistance available is at disasterassist.gov.au and emergency.nsw.gov.au. Retired NSW Police Deputy Commissioner Dave Owens, has been appointed as the Regional Recovery Coordinator to oversee the clean-up and recovery efforts. We have received many calls of support. Once the recovery process commences, we will know what is needed.
Danny Green
General Manager