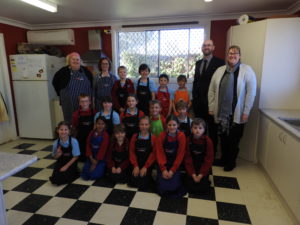 Children of Forbes North Public School were excited to celebrate receiving beautifully embroidered aprons.
The aprons were bought with a Westpac bank funding boost that the school was awarded earlier this year.
A program that the school has to support children in learning about nutrition, healthy eating, and cooking good foods, secured the funding for them.
The aprons are to be used for children involved in cooking classes.
Westpac local branch manager, Shannon Crowley, said: "With Australia having one of the highest rates of obesity in the world, we think what the school is doing will help change this for future generations".