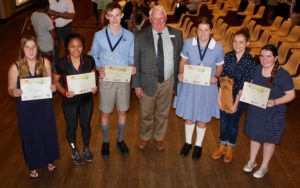 Rosie Yapp was the overall winner of the 2017 Youth Community Award at the Youth Week Awards ceremony at the Forbes Town Hall on Tuesday night.
Elise Dukes received a highly commended award in the same category as the judg- es had trouble splitting the two nominees.
"I have not had much time to really com- prehend what has just happened," said an overwhelmed Rosie afterwards. "There are so many deserving people in our community of this award, so I am really grateful." Rosie said she hoped it would serve as inspiration for whatever path she chooses after finishing school this year.
The award recognises young people who have an active and positive role in the community by doing volunteer work, taking the lead in organising events, charity work or outstanding contributions to sport or cultural organisations.
Mayor Graeme Miller handed out more awards to acknowledge the contribution our youth makes to the Forbes community. The Young Sports Volunteer Award was again a tight race and two winners were announced: Janssen Mores and Brianna Duncan.
Two Education Awards were handed out to an outstanding student from Forbes High School and one from Red Bend Catholic College. The recipients were Chelsea Turner and Jackson Burton respectively. Both students not only have achieved ac- ademically, but they are also very active in various other school activities.
The Bright Future Award for apprentices, trainees or students went to Cheyenne Stokes-Hicks, a student of TAFE Western.
By Maggi Barnard