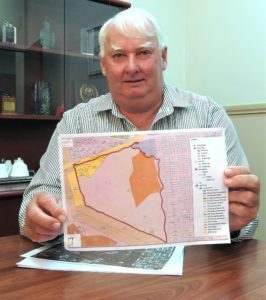 Forbes Shire Council has commenced the process to purchase the 72-hectare site of the former Lachlan Vintage Village.
It was resolved at Council's March meeting that the Mayor and General Manager would negotiate a purchase price with the owner.
"These negotiations were successful and at the April Council meeting, Council re- solved to go ahead with the purchase." Mayor Graeme Miller said. "The contracts have been drawn and it is hoped they would be close to exchanging very soon."
"Once the purchase is finalised, Council will consider the proposed uses prior to making a resolution. A master plan for the land will then be developed, which will include consultation with the Forbes community. This is a truly exciting opportunity for Forbes." said the Mayor.
"The large site will allow Council to consider drainage and stormwater solutions for the area." he added. "The site also has a number of zones that can potentially lead to residential and tourism developments. There are no other opportunities for residential development in this area, therefore the purchase of this site is a huge step for more land to be made available for residential development."
The Mayor said the master plan would de- fine the concept and maximise the potential of the site.
The Lachlan Vintage Village was established in the early 1970s on land bordering the Newell Highway that was originally goldfields. The village was a historically authentic recreation of the NSW gold mining and early farming era. It is recorded that during the 1990s there was a down-turn in interest in Australian colonial history. Due to this, the Old Sydney Town, north of Sydney set out according to James Mee- han's map of Sydney in 1803, closed to the public in 2003, and the Lachlan Vintage Village closed in 2004.
By Dianne Collie