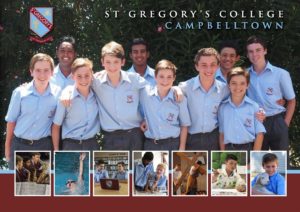 St Gregory's College is a boarding and day secondary college in the hills of the Mac- arthur region in Sydney. Founded in the Marist tradition and operating since 1926, the college remains dedicated to providing a holistic education enhancing each student academically, spiritually, socially, culturally and physically.
St Gregory's offer full time boarding with three junior and two senior boarding hous- es with each boy having his own space and privacy in a home style environment. Boarders come from all over country NSW, ACT and NT. With a focus on academic excellence, the dedicated staff, many of whom live on site, provide guided and supervised tuition and study periods each night.
With a state of the art TAS facility, music facilities, refurbished science labs and new IMAC labs, not to mention the college's own swimming pool, gymnasium, basketball and tennis courts, cricket and football fields and fully functioning farm, St Gregory's facilities are of a high standard. A recent addition is the new learning centre and refurbished dining rooms.
The boarding and tuition fees combined are comparatively lower than many other independent boarding schools' fees in NSW.
St Gregory's offer a myriad of courses, including agriculture and primary industry, and assists students in choices for future studies. The St Gregory's College family has a unique spirit with a sense of belonging. The challenge is to impart the qualities that will provide a source of strength to each individual, enabling them to take an active and responsible role in society in the spirit of the gospel as expressed in the college motto: "As you sow, so shall you reap".
For more information visit: www.stgregs. nsw.edu.au