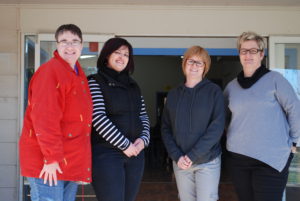 Amy Shine of Forbes Preschool handed over the keys of their old school to House With No Steps on Wednesday morning.
"On behalf of the preschool, we are happy to hand over the school to another community organisation and look forward to continuing our long-standing partnership with them," Amy said.
The school moved into new premises end of April last year and since then the old building has been vacant.
Support Manager for House With No Steps, Kim Wright, said that they were looking forward to utilising the area.
House With No Steps will be using the old school as an office and meeting space and have a few plans in mind on how to make the building suit the needs for people with disabilities. House With No Steps members did a tour of the premises and made suggestions for possible improvements.
Leanne Allegri who is the Area Manager for House With No Steps said: "We are very excited about being able to build more of a community space to support people with disability as we move towards the National Disability Insurance Scheme (NDIS).
By Gizell van Wyk