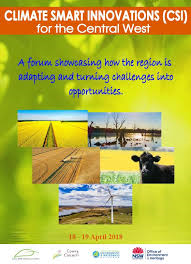 Climate Smart Innovation for the Central West is a conference being held in Cowra on 18th and 19th April exploring the future of agricultural practices.
The conference will showcase the latest in the region's agricultural, environmental and conservation projects. It will promote new and sustainable production methods for land production and environmental stakeholders in the Central West.
Major speakers at the conference include Mick Callan of Central West Council's Environment and Waterways Alliance who will speak about Environmental Protection Projects in the region. Mick is the current winner of the Jo Ross Memorial Award for his contributions to the environment of the Bathurst Region for implementing projects such as "Racing to Save the Mount Panorama Woodlands" and "Protecting and Connecting Bathurst Copper Butterfly Habitat".
Dr Paul Gibson-Roy, the lead scientist for Greening Australia will be speaking about "Bringing native biodiversity back into rural and urban landscapes", which will touch on both ecology and amenity and the techniques used. Paul will speak about how native species are not only used to reduce soil or water surface loss but are also useful in farming systems for fodder or for their integrated pest management attributes.
A visit to one of the country's leading dairy, "Moxey Farms", will also feature. See how the farm of 6,000 cows manages innovative technology to run sustainably, including a tour of their new biodigester which is turning farm waste into fertiliser.
Kristy Good, the Splash Program Coordinator for Sydney Water will be running a workshop on "Living Waterways Framework", providing participants with the skills to identify, design and promote solutions for water sensitive urban design strategies.
For more information and to register, contact Cowra Council on 02 6340 2040 or go to www.cowracouncil.com.au.