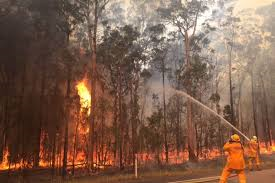 The Climate Council is warning Australia's 2017/18 bushfire season will be more severe and dangerous, as a result of worsening climate change, following the release of a new critical outlook this week. The Climate Council said the new Bushfire and Natural Hazards CRC outlook is a smoke signal for yet another worrying bushfire season, highlighting a largely warm and dry winter that has set the scene for dangerous bushfire conditions over the coming months.
Climate Council CEO, Amanda McKenzie said the latest southern Australia bushfire outlook, released, shows an earlier and more active bushfire season should be expected. "Climate change is the driving force behind southern Australia's worsening bushfire conditions," she said.
"As Australia's pollution levels continue to rise, many parts of the country are poised to live through another dangerous bushfire season. Climate change, driven by the burning of coal, oil and gas, is intensifying extreme weather events – and bushfires are no exception."
"We must rapidly and deeply reduce our rising pollution levels and continue the retirement of all coal power stations, in a bid to protect Australians from these worsening extreme weather events."
McKenzie urged the Federal Government to follow the actions of state and local governments across the country, by rolling out climate and energy policy to support the transition to Australia's clean energy future.
"The link between worsening extreme weather events and climate change is clear. Australia must act now to slash its rising pollution levels through clean, affordable and secure renewable energy and storage technology."
For more information visit climatecouncil.org.au.