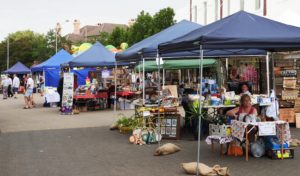 Where else would Santa make a grand appearance in a bright red fire truck but at the FSMC Find It In Forbes Christmas Festival!
The festival was held last Thursday in Rankin and Templar Streets and had much to offer enthusiastic Christmas shoppers while children were kept occupied with exciting activities.
Although the weather did not play along at first, avid festival goers from Forbes, Parkes, Orange and surrounding areas were not going to miss out. "We struggled with the weather to start off with but the participation was still really
good. Stall holders ended up doing very well," said Forbes Business Chamber Admin and Marketing Coordinator Fiona Ferguson.
There were 10 draws of $500 at the festival and lucky winners were rewarded in 'Why Leave Town' cards.
The festival also featured an array of local talents. Dance groups from Kristen's Dance School and local musicians entertained and showcased some of what Forbes has to offer.
Another highlight of the festival was when Santa arrived in a big fire truck to deliver lollipops to children, causing great excitement and a sudden nervousness in some. This year empty shop windows were covered with a beautifully creative mural painted by children and a giant sandpit kept the little ones busy for hours.
The Find It In Forbes committee would like to thank naming rights and major sponsor, Forbes Memorial Services Club, silver sponsor Forbes Shire Council, bronze sponsor Terry Bros Carpet Court, community groups, emergency services and the fire brigade.
By Gizell van Wyk