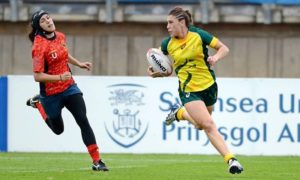 Darcie Morrison's blazing performance on the Rugby Sevens world stage the past year won her the Forbes Advocate 2016 Sportsperson of the Year last Saturday.
Darcie, who could not attend the ceremony, was honoured to be nominated and selected by her peers and the community. Ever since attending the Sportsperson of the Year Awards at the age of about 10 she has always wanted to win this award. "I encourage all sports people to give back to the community sporting organisations that have made all this possible," she said.
The fact that she only started playing rugby sevens in 2015 makes her sporting achievement so much more impressive. It did not take very long for her to be noticed and she was selected to play for Australia at the World University Championships in Wales last year where she scored five tries and was awarded players player.
Darcie went on to captain the CSU Rugby Sevens team at the Australian University Games in Perth. The team went through the competition undefeated and won the gold medal. Darcie scored all but two of the tries. She was again named players player.
She was also invited to play with one of two Australian teams at the Central Coast Sevens in October last year and she played for NSW in the 2016 National Championships where they finished as runners-up to Queensland. The list continues with Darcie named 2016 Blue Belle – NSW Rugby Sevens player of the year, she was invited to play in the Australian Development team at the Darwin Sevens in January, she played an invitational game with the Australian de- velopment team against Ireland in Sydney in January and was invited to tour with the Australian development team to Japan in February.