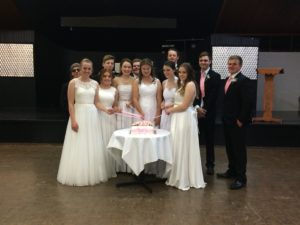 Twelve nervous young people took to the dance floor to the delight of their families and friends to raise valuable funds for the Forbes Breast Cancer Support Group last Saturday.
The debutantes and their partners along with their gorgeous flower girls, Evie Nikolic and Sienna Gibson, and page boys, Jarrod Thornton and Maison Campbell, were presented to Denise Jelbart, representative of the Forbes Breast Cancer Support Group. Denise expressed her extreme gratitude that the group had chosen to support this worthy organisation and raised in excess of $1,500.
Dance instructor, Kate Ralph choreographed a beautiful dance to Parallel Lines by Keith Urban and Maria Bullock performed the duties of Master of Ceremonies for the evening.
The debutant group consisted of Jodi Williams and Xander Williams, Tahlia Harpur and Jack Peters, Zoe Willis and Corey Williams, Brielle Thornton and Jack Cole, Georgia Palazzi and Kyle Bolam and Bree Schaefer and Joe Fisher. They conducted fundraising barbeques, 100 clubs and raffles to raise money for their chosen charity and looked absolutely amazing on the night according to the event coordinator, Anita Morrison.
"I could not be happier with how this group has conducted themselves in the lead up to and on the day of the event. Families and friends of these young people should be extremely proud of what they have achieved in such a short amount of time," said Anita.