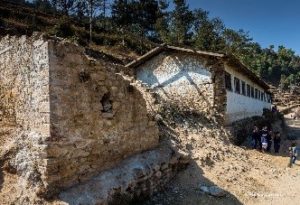 The Life Pharmacy Group, including Flannery's Pharmacy and Life Pharmacy in Forbes, have committed to raising funds to build a school in Nepal.
"With everything happening around the world I'm sure everyone would agree that we are indeed very fortunate to call Australia home," said pharmacy owner Michael Flannery.
"As a business, we have been thinking about what we can do to make a lasting impact for change in 2018 and from that was born our 'Let's build a new Life Pharmacy Group – School – Change for Change' school project appeal."
While the Himalaya region is known to the Western World as a vast adventure playground for trekkers and mountaineers alike, for the local communities, life is anything but easy – with access to basic health and education services often well out of reach.
Without access to a quality education, children in remote communities like the Everest or Solukhumbu region of Nepal remain deprived of the life skills and knowledge gained from education.
"In response to this we are working directly in partnership with the Australian Himalayan Foundation and its flagship Teacher Training and Quality Education (TTQE) program that operates in the poorest region of rural Nepal," said Michael. "Helping to ensure that post the earthquake all children have access first and foremost to a school and importantly an education."
They say that by giving the gift of education you can change a generation. The devastating earthquakes in Nepal resulted in 9,000 deaths and injured over 20,000 people.
"The Life Pharmacy Group would like to help rebuild their lives by making a permanent impact in their community by raising much needed funds for a new school," said Michael, "but we need help from our local communities here in Australia."
Importantly, the rebuild project will also ensure that the school be made with a steel foundation and structure, becoming a safer shelter for the children and their community.
"The Forbes community is always extremely generous and the whole concept is 'change for change' so it doesn't need to be a huge donation," said Flannery's Business Manager, Debbie Prior. "If you would like to help us raise funds for this worthwhile cause, you can donate at either Life Pharmacy or Flannery's Pharmacy."