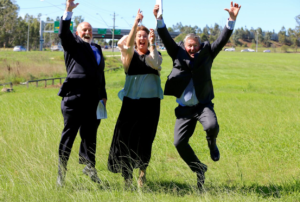 The announcement this week securing the Corridor connecting the M7 to the Bells Line of Road at Kurrajong has the Mayors of Central NSW jumping for joy. John Medcalf, Chair of Centroc and Mayor of Lachlan Shire and Ken Keith Portfolio Mayor for Transport for Centroc and Mayor of Parkes attended the announcement, representing Central NSW.
"This is so very welcomed in Central NSW. At last we see some real action. The securing of the Corridor is the essential first step for the future development of better transport links between Sydney and our communities," said John.
"To stand next to the Minister for Roads, Maritime and Freight as she made this historic announcement was a great privilege," he added.
"The communities of Central NSW and Western Sydney need certainty and to see direction, which is what the State Government has done," said Keith.
John said transport constraints and connecting Central NSW communities to Sydney is their number one priority, especially for freight.
"It was also great to see recognition of the task ahead to build a safe swift link between Sydney and Central NSW, recognised in the recent publication of the Future Transport 2056 Plan. It's all go in Central NSW where it is clear that our voices are being heard," said John.
"Infrastructure Australia has identified that Central NSW will be in the top seven regions in Australia for Gross Regional Product in 2031, improving our transport links will be critical to ensuring our growing contribution to the State and National economies," said Keith.
"I'm sure I speak for every Mayor of every community in our region when I say we are jumping for joy. Centroc's next meet is in May at Parliament House in Sydney and we will be taking the opportunity to thank the NSW Government for investing in regional NSW," said John.