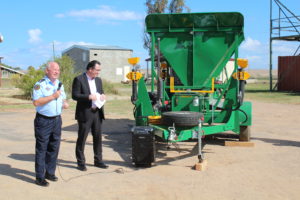 The Forbes State Emergency Service (SES) will be able to double its efforts in future floods thanks to the generosity of service clubs in the Central West.
CEO of the Forbes Services Memorial Club, David Fitzgerald handed over a brand new sand bagging machine worth $40,000 to Robert Walshaw, Local Controller of the Forbes SES last Thursday.
"It is a big help for the whole Shire," said Robert. "The new ma- chines will supplement our existing one, which means we would be able to get double the amount of sand bags in case of a flood event. We would also be able to have the machines at different locations, such as Bedgerabong to get sand bags quicker to outlying town- ships." Robert said more than 20,000 sand bags were filled last year during the floods.
The funds were raised at a charity auction in November last year when 85 delegates
from Central West Region Clubs attended a conference in Forbes. They came from FSMC, Bathurst RSL, Dubbo RSL, Orange Ex Ser- vices, Gilgandra Ser- vices, Club Mudgee and Parkes Services Club. The Bankstown Sports Club and Forbes Country Music Club also contributed to the Forbes Flood Recovery effort.