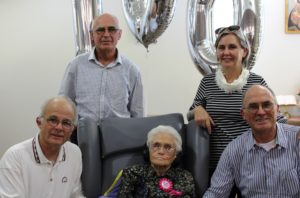 For Winifred Brown, last Sunday afternoon was filled with balloons, flowers and cake in celebration of her 100th birthday.
Win, as she's affectionately known, saw her milestone 100th birthday on the 6th June. She was honoured by family and friends through a 'Thanksgiving Celebration' held on Sunday at the Jemalong Residential Village (JRV) where she resides.
Approximately 120 family members came from far and wide to attend the special occasion.
Win was born in Manildra on 6th June 1918. She was the second of six children born to Frances and Roy Doust who lived at Burdett near Canowindra.
Her education commenced at Burdett Public School, a one teacher one room school of 20 to 30 pupils in 1923.The family moved to a farm at Garema in 1928 where Win's schooling continued. She was awarded a bursary at the end of primary school and was able to board at the Forbes St John's hostel and attended Forbes High School.
Following high school, Win started working as a governess on a property near Bedgerabong supervising correspondence lessons. It was during this time in 1935 that she met a young farmer from a neighbouring property. Following a friendship and courtship that lasted nearly 10 years, Win Doust and Edgar Brown announced their engagement and were married at the Forbes Methodist Church on 4th July 1945.
They made their home in a very roughly built cottage on the property "Glamis" and had no electricity or refrigeration. Recalling one of the many memories, was when trying to keep their butter from melting, they decided that the coolest place would be down a well. The butter was put in a hessian sugar bag and lowered down the well.
What they didn't realize was at midday the sun shone directly down the well and the butter melted anyway.
The couple started their family and three sons were born by 1950. In 1959 their daughter arrived. Win was a devoted wife and mother. Edgar only had one hand so she was called on to help him in many ways.
From very early years, her Christian faith and a love for God influenced her life. She faithfully taught Sunday school for many years and regularly attended church services at Bedgerabong and Forbes.
Win was also involved in many community organisations including school P&C associations, CWA and Meals on Wheels, holding executive positions in these organisations.
In addition to four children, Win has 11 grandchildren and 21 great grandchildren.
She was married for 43 years until Edgar died in 1988 and has been on her own since.