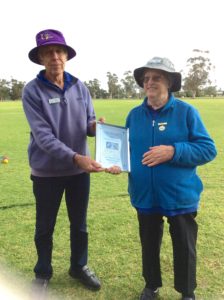 A few showers of rain could not dampen the spirits of the Forbes Croquet Club members as they celebrated World Croquet Day last Saturday.
A sausage sizzle and beautiful nibbles added to the festivities, as well as a cake made by Kath Swansbra from Parkes.
Records are made to be broken and Forbes Croquet Club is no exception. This is exactly what happened last Tuesday when 36 people took to the courts. We welcomed Port Stephens members Jim and Susan Timbs, as well as local Janene Whitfield. Janene said she enjoyed playing and would come again when work commitments allowed.
A beautiful morning of croquet in the great outdoors was followed by the celebration of member's birthdays at the Vandenberg Ho- tel. The special birthday girl was Ilma Davis who attained her OBE Award.
Libby Smart was bestowed with Honorary Life Membership for her dedication and continued support to the club.
By Anne Stewart