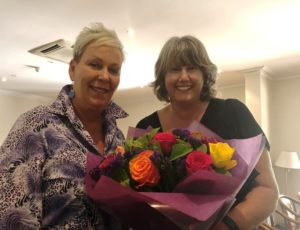 The staff at CatholicCare Wilcannia-Forbes on Tuesday celebrated a milestone of 10 years service for the Deputy CEO, Kate Gibson.
During the celebrations, Kate was acknowledged for her hard work and enthusiastic commitment to the service which covers 40,000sq kilometres (52 percent of NSW).
CEO, Anne-Marie Mioche congratulated her on passionately fulfilling her executive role to help drive the organisation, which has delivered services to more than 4,000 people living in the Wilcannia-Forbes Diocese.
"The team at CatholicCare Wilcannia- Forbes is a constant source of inspiration to me and Kate is absolutely no exception.
We have a wonderful culture of passion, dedication and commitment and that is only possible because of this fantastic team we have," said Anne-Marie.
"Unfortunately, there is a growing increase for crisis and support, as many families have been turning to us because they are affected by hardship and trauma.
"We have seen particular spikes in need for our safe houses and refuges as well as a demand for the Family Mental Health Support Services. The drought has also put severe pressure on many of our communities," said Anne-Marie.
"CatholicCare Wilcannia is well placed to deliver vital frontline services and assistance as we are already working with individuals and communities to address unemployment, access to health services, homelessness, environmental extremes, entrenched poverty and intergenerational disadvantage," added Anne-Marie.
Last year the CatholicCare Wilcannia- Forbes team travelled 737,363 kilometres to deliver services. They deliver social and welfare services to improve well being and improve opportunities for individuals, families and communities.
CatholicCare Wilcannia-Forbes delivers social services to develop and create social inclusion, targeting at risk and vulnerable sectors.