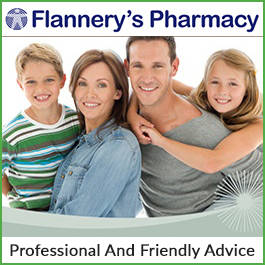 Early in March, Sarah Hazell, Michael Flannery, Debbie Prior, Tracey Edwards, Jack Buckley and Ange Hennock from Flannery's Pharmacy, headed to the Gold Coast for the Pharmacy Guild of Australia Pharmacy of the Year Awards. The pharmacy team were aware that Flannery's was a finalist in the awards and that they would be receiving an award for Business Development, however, they were not aware who the winner of the Pharmacy of the Year would be.
"The presentation was held at the Convention Centre at 8:30am in front of a huge crowd of people," said Debbie Prior, Business Manager at Flannery's. "We had no sooner accepted the Business Development award and resumed our seats, when the winner of the Pharmacy of the Year was announced and we were back on stage again."
"It was amazing to be recognised by the Pharmacy Guild for the work we do," said Debbie. "Our pharmacy has been in operation for over 60 years and is an integral part of the Forbes community," said Debbie. "We love helping customers with their health needs and over the past few years have really taken this to a whole new level, providing flu vaccinations, Medschecks and leave certificates," said Debbie. "Our new clinic rooms provide space for visiting health professionals including podiatrists, women's health physiotherapist and audiometrist." Flannery's Pharmacy also employs a Registered Nurse, Rachel Hayes.
Last Saturday the pharmacy celebrated winning the award with a bbq to say thank you to the local community for their ongoing support. "We feel very proud of our team and our pharmacy and will be hosting some more celebrations throughout the year," said Debbie.