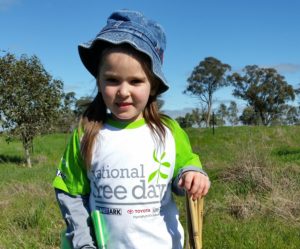 Central West Lachlan Landcare (CWLL), Forbes Shire Council, Planet Ark and Toyota are inviting Forbes Shire residents to take part in a local National Tree Day event.
The National Tree Day event is taking place at the intersection of the northern end of Lake Forbes, at the Herbert Street end of Hill Street, on Saturday, 28th July. Activities start from 10am and there will be a bbq lunch. Please bring a chair to join with the group for lunch at the completion of planting.
"National Tree Day is a timely opportunity to connect with the community, reflect on what's been achieved through previous plantings and continue to care for our local environment," said CWLL Chairperson, Margot Jolly.
National Tree Day is Australia's largest tree-planting and nature care event. Each year over 300,000 people take part in National Tree Day events at 3,000 sites. The campaign has spanned 22 years and lead to the planting of over 24 million trees, and Planet Ark is asking Australians to band together to plant a million more this year.
Existing research and feedback show participants feel healthier, happier and more connected to their communities by helping plant in and maintain their local green spaces.
Their newest research, via Pollinate, found 62 percent of Australians wish they had at least 30 minutes more time in nature per day, and only a third realised they could enhance their time outdoors by using smartphone apps such as plant identifiers and nature trail maps.
Landcare Co-ordinator, Marg Applebee explained "Central West Lachlan Landcare is pleased to be working with Forbes Arts and Forbes Wiradjuri Dreaming Centre, with the support of Forbes Shire Council and we look forward to continuing the fantastic work that has already been achieved through these community planting days."
To register for National Tree Day, please visit treeday.planetark.org