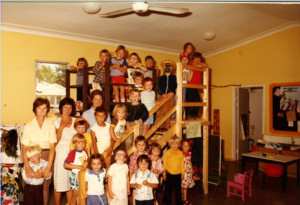 Forbes Preschool was established after a public meeting at the Forbes Town Hall on 13th May, 1957. The meeting was called when Noelle Smith and Joan Todd wrote to the Chamber of Commerce expressing a need and an interest in the establishment of a preschool kindergarten.
At that meeting a committee was formed and the following officer bearers were elected, Dr J Dent (Chairman), Dr J Dyce (Vice Chairman), C Haslingden (Treasurer) and G Ford (Secretary). It was decided at the meeting the Mayor of Forbes would be requested to become the patron of the preschool kindergarten.
A house to house canvas was conducted to ascertain the number of children and interest in establishing a preschool. As a result of the preliminary figures, it was agreed at the June 1957 meeting, to plan for a building to accommodate 25 children, a space of about 4,000 square feet.
The Bogan Street Preschool was officially opened on 10th October 1958 by His Excellency, the Governor of NSW Lieutenant General, Sir Eric Woodward.
In 2012 the Forbes Preschool received $1.2 million from the NSW Government to build a new preschool. The new preschool was officially opened on 3rd June, 2016. The new purpose built centre allowed for a daily registration increase from 39 to 100 places per day.
Forbes Preschool Director, Amy Shine said the priority is to ensure all children have access to an affordable preschool program.
"This increase in places also enables the preschool to ensure children on the priority list, such as Aboriginal and Torres Strait Islander children, children with disabilities and culturally and linguistically diverse children can have ready access to vitally important preschool services," said Amy.
The new preschool allows accessibility for all children aged 3 to 5 years in our community. In particular children the year prior to school," she added.
Why preschool?
Preschool and early education has long been identified as fundamental to promoting equity and excellence in young learners all through their educational journey.
At Forbes Preschool we hope to expand access to preschool so that as many children as possible can participate in our quality preschool programs for two years before starting school. All children benefit from high quality early education, but it is particularly beneficial for those from disadvantaged backgrounds and for the one in
four children who are developmentally vulnerable.
Preschool education is one step that can be taken to improve a society economically and socially. It has been shown children should begin to receive education before school since children experience substantial brain development during these early years.
Scientific research has proven that learning and mental development begin immediately after birth. During the first three years of a child's life, essential brain and neural development occurs. Therefore, children greatly benefit by receiving education before formal schooling commences.
The following key benefits exist for preschool students, socialisation, cooperation, holistic development, enthusiasm for lifelong learning, value of experience based education, respect, teamwork, resilience, teamwork, concentration, patience, confidence, self esteem and exposure to diversity.
The conclusions drawn from most research about early childhood education are that individuals and societies greatly benefit, in terms of social, economic and other benefits.