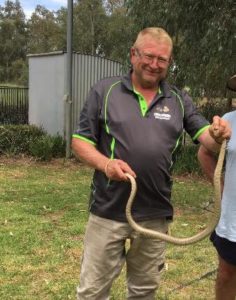 Most of us would cringe at the very thought of coming into contact with a snake, but that's hardly the case for our very own Forbes snake catcher, Paul Newcombe.
Paul has been living in Forbes all his life and decided more than 20 years ago that he was going to start catching snakes.
At first Paul started off by catching snakes only for people that he knew but as word spread of his pastime in the Forbes area, he was advised to apply for an official snake catcher licence. After obtaining his licence those many years ago, Paul has just got busier and busier through word of mouth and so became a household name we know and recognise as 'The Snake Catcher'.
"I've just always been interested in animals and liked having them at home too.
I breed fish and birds, raise pigeons and have about 40 snakes at home," he said.
Paul has been married to his wife, Cheryl, for 30 years. He can be classified as a herpetologist, meaning a person that studies reptiles and amphibians. He swiftly deals with snake call-outs during the day while working at the rattery, where they breed rats for snake food. The snake catcher licence requires Paul to have public liability and personal insurance, which he makes up through the $50 fee for catching a snake.
"I have been bitten twice by a snake, a brown and black snake. I ended up in the Forbes District Hospital for a couple of days. I suppose I zigged when I should have zagged," Paul lightly joked. The necessary emergency procedures were followed by applying a pressure bandage as soon as possible and no anti-venom was required.
"Snake catchers have to know what they're doing when it comes to actually catching the snake. You have to choose the right time and have absolutely no hesitation, otherwise you will get bitten," said Paul.
During 2017, Paul caught 156 brown snakes, six black snakes, four tiger snakes and about 15 pythons in and around the Forbes district. So far this year, he has already caught 59 snakes.
"The snake season seems to be starting later and finishing later these days. I'm catching snakes now right up till the end of April," he said. Rest assure though, according to Paul, the amount of snakes around seem to be more or less the same.
Paul can be contacted on his mobile number at 0424 522 608 or on his home number at 6852 3451.