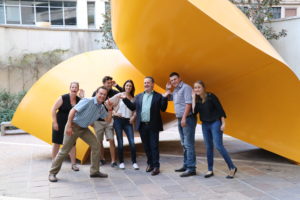 Two farming businesses and a fishing business run by young producers, will start a 12 month tailored coaching course under the NSW Department of Primary Industries (DPI) Young Farmer Business Program.
Jarrod and Emma Amery run a mixed farm near Forbes and have been successful in being selected as one of the three participants. They grow pastures, wheat and canola and run a sheep trading enterprise.
Jarrod and Emma are joined in the program by Coffs Harbour commercial fisher Danny Green and Manning Valley dairy farmers Adam and Sophie Cooke.
"I'm keen to learn and grow and to be able to keep expanding our business into the future," Jarrod said.
"It takes a mentor or coach to point out the things that we are blind to… the 'don't knows'," he added.
Jarrod believes that the course will be challenging, but in a great way as it will help them focus and grow their business.
The Young Farmer Business Program is a four-year joint initiative between the DPI, NSW Young Farmers Council and NSW Farmers Association, which aims to provide young farmers and fishers with access to new business ideas, tools, products and services relevant to their skills, knowledge and experience. It promotes and creates opportunities for young farmers and fishers to connect with other farmers and fishers and business networks. It also aims to increase the number of young people in agriculture across NSW.
NSW DPI Acting Manager Business Resilience Program, Pip Job said that the pilot program would make a huge difference for the young, passionate agriculture and aquaculture producers.
"The Young Farmer Business Program is committed to promote and create opportunities for young farmers and fishers to expand their business aspirations," Pip said. "We understand the challenges young farmers and fishers face to improve their business skills."
"The 12 month Young Farmer Business Coaching Program will provide personalised business coaching to help them to reach their goals."
Pip said that these young farmers and fishers all have great passion and drive to improve their skills and knowledge to enhance their businesses for strong future growth.
By Gizell van Wyk