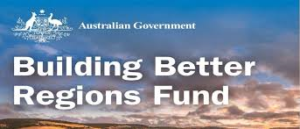 A vital regional infrastructure program which is delivering jobs and much-needed projects throughout the Riverina and Central West has been continued thanks to the recent Liberal and Nationals' Budget.
Deputy Prime Minister and Nationals' Member for Riverina, Michael McCormack said another $200 million has been allocated in the 2018-19 Budget to deliver a third
round of the Building Better Regions Fund (BBRF).
"In round one of the BBRF I worked hard to deliver $210,000 to allow House with No Steps to move its Aussie Biscuits Factory at Forbes into new premises in the town," said Michael.
"I had the pleasure of visiting the Aussie Biscuits Factory just before its move, so I have seen first-hand the real benefits of the Building Better Regions Fund."
The minimum grant for Building Better Regions Fund projects is $20,000 and the maximum grant is $10 million.
"I encourage the community to consider projects which can help strengthen local economies and build capacity and productivity around the region," said Michael.
"The fund is only for projects in regional Australia and I look forward to hearing more of the region's ideas when applications are called later this year."