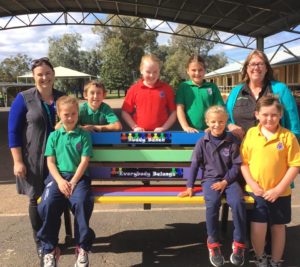 Forbes North Public School (FNPS) is now the proud owner of a buddy bench helping to make its playground a friendlier place for students.
FNPS is one of ten schools in Forbes and Parkes to benefit from the Buddy Bench Initiative of the Currajong Autism & Special Needs Group.
Angela Wilson, facilitator of Currajong Au- tism & Special Needs Group, visited Forbes North last Friday for the official handover of the bench. She was invited to explain to stu- dents at the school assembly what a buddy bench is.
It is a place where students can sit and send out a visual signal to other students that they would like friendship, or somebody to play with.
According to Michele Morley, Principal of FNPS students who have started using the bench have been included into games and activities in the playground that helped them to connect with friends.
The Buddy Bench Initiative started last year as a dream of Angela and her colleague Deb Collier to provide a buddy bench for every primary school in and around Parkes. The John Holland Group came on board and found local businesses and suppliers to donate benches. The FNPS bench was donated by Millcon Engineering.