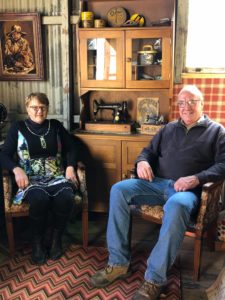 Have you noticed any changes to the old shed at 38 Dowling Street in Forbes? Well, it's now a shed filled with interesting old furniture awaiting restoration and repair.
Forbes Furniture Restorers have moved into the shed and are people with a passion for furniture restoration. From upholstery to French polishing, they have master craftsmen to complete any restoration job.
Paul and Lyndee Lynch are the owners of Forbes Furniture Restorers and bring 40 years of experience in furniture restoration to the Forbes district. Their business was established in Gilgandra in 1980, where after they purchased the upholstery business from Harry Waddington in November 1989 and moved it into the Aussie shed. Paul and Lyndee have always been thankful to the people of Gilgandra, their many customers and Paul's parents, Vilma and Wally, for all their support during the start-up years. In 1991 they relocated to Mudgee and after 26 years they had restored nearly all of the old furniture in the district.
Paul is a French polisher by trade and still uses shellac, the natural polish used specifically for antiques. He is a master craftsman with all repairs and resetting chairs, recaning seats, repairing recliner rockers and is qualified to carry out furniture warranty work.
Lyndee, is the upholsterer and is also an expert at repairs and recovering of dining chairs, lounges, cushion covers and foam for your seats. She has a great range of fabric and vinyl samples or bring your own fabric. She can do your industrial sewing jobs and has foam which can be cut to size plus webbing and upholstery supplies for the do it yourself restorers.
Call in to discuss your furniture restoration needs with Paul and Lyndee or phone them on 6851 2490.