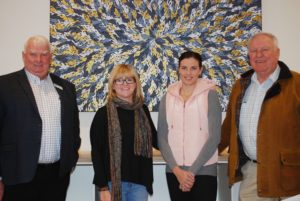 Forbes Preschool has been selected to deliver the Ninganah No More program, Parliamentary Secretary for Western NSW, Rick Colless announced on Monday.
Rick said the Preschool would receive $20,000 to deliver this much needed program. It is designed to increase the level of Aboriginal languages being taught and embed awareness and understanding for children from an early age.
"The $400,000 program will support young children in appreciating and understanding Aboriginal languages while participating in early learning environments," said Rick.
"I'm extremely pleased to announce a range of agencies across the Orange electorate will be participating in delivering the Ninganah No More program.
"The local community will also benefit immensely, with stronger relationships forged between early childhood services and their local Aboriginal communities."
Director of the Forbes Preschool, Amy Shine said this funding would go a long way towards linking indigenous children with their heritage culture.
"This is such a great program and we're excited to deliver this in our community. It's so important for these young kids to understand their culture and history. It's through developing their language skills that we will be able to do this," said Amy.
Minister for Early Childhood Education and Minister for Aboriginal Affairs, Sarah Mitchell said: "Agencies and services running the program will soon be teaching 14 languages across NSW including Gumbaynggirr and Gamilaraay, Yuin, Wiradjuri, Paakantji and Bandjalang."
"In addition to increasing the literacy and vocabulary skills of Aboriginal children in NSW, Ninganah No More will help young people preserve some of their heritage and traditions and develop as bilingual speakers.
"By opening the door on children's curiosity, we are supporting them to learn more about Aboriginal cultures and languages," said Sarah.