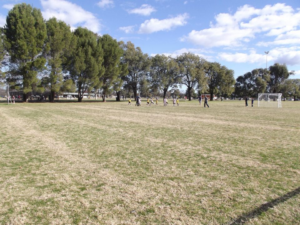 Organised sport has been undertaken at the Forbes Botanical Gardens Sports Fields for over 100 years with a variety of groups making use of this great facility.
Therefore another announcement for further funding of $178,000 for the Botanical Gardens made by Deputy Prime Minister, Michael McCormack at Victoria Park on Monday was welcomed. This funding is on top of $150,000 funding from Council, $146,000 Asian Cup and $135,000 NSW government money. This will help fund upgrades to the grounds including new change rooms and toilets at the sportsground.
"For the first time facilities for the elderly and disabled will be available at the Botanical Gardens," said Forbes Mayor, Phyllis Miller. "The grounds are used by over 5,000 people a year to attend sporting events held at these fields."
Announcing the grant, Deputy Prime Minister, Michael McCormack said the Infrastructure Grants provides funding for sport and recreation facilities such as these. The new amenities and change rooms are marked to be built this year.
The project benefits not only participants in soccer, athletics, cricket and touch football but with Forbes' central location and the current popularity of the fields as a location for regional carnivals, the proposed upgrades will benefit clubs and participants from right across the Central West.
Forbes has one of the highest levels of participation in soccer by women in the Central Western NSW. The proposed new facility forms an integral part of plans to grow and develop female participation in soccer not only at Forbes but across the Central West NSW.