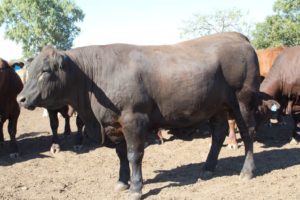 A greedy Senepol/Angus cross steer has recorded a whopping 4.6kg daily weight gain during the Callide Dawson Beef Carcase Competition in Queensland, the highest mid-term weight gain in its 30 year history.
The 24-month-old steer, one of three entered by first time exhibitors Clayton and Sarah Maynard, Southern Star Rural, Canowindra NSW, currently leads the pack of 143 competition steers at the 53 day mark of their feedlot preparation.
Senepols are leading the way for breed results too with the top four exhibits doing 3.41kg/day, ahead of the overall competition average of 2.87kg/day.
Owner Clayton Maynard from Canowindra, integrated Senepols alongside a composite breeder herd when he began his operation eight years ago, with this indulgent steer sired by 5 Star 130509.
Clayton credited genetic selection as the secret to the steer's surprising success having been a middle of the range animal when he left for the competition.
"At the time I didn't think this particular steer was a stand out, he wasn't an overly big calf and was middle of the range for weight," he said.
"I think we are doing a good job, but entering a competition like this provides positive afirmation on the decisions we have made. I think that's vital for decision making down the track."
A selection of quality Senepol and Senepol/ Angus and Senepol/Charolais bulls are available for sale from Southern Star Rural in Canowindra. Call Clayton Maynard on 0439 029 204 for more information.