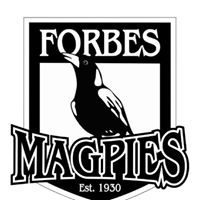 Get ready for four great games against our biggest rivals! The Forbes Magpies are having a Twin Town Darby against Parkes Spaceman this Sunday.
In 1958 Forbes won the premiership and now 60 years after winning the competition the Magpies are celebrating their proud history through hosting this special day.
Oldies are encouraged to come along and wear their old guernseys.
Wear your old Magpies jumper or any pre 2000 footy jumper to show your support and receive a $5 canteen or bar voucher at the gate.
There will be replica jumpers of the 1958 premiership side auctioned after the game. Kickoff is at 11am with the girls' league tag.