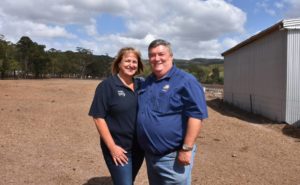 In an attempt to give some form of relief to struggling farmers during the current drought experienced in NSW, Kim Lowe and Herb Beer of K&H Interiors and Design have partnered with Rural Aid's 'Farm Rescue' campaign to raise money to support local farmers needing assistance.
The entire community is asked to join the endeavour to help drought affected farmers by attending the K&H Rural Aid Farm Rescue fundraising auction which is being held in the Sylo building on Friday, 10th August with arrival from 7.30pm commencing at 8pm.
Tim Mackey from Forbes Livestock Agency has graciously volunteered to be the auctioneer for the evening. Selected goods and services donated to the cause will be auctioned to help raise money to finance the farm makeover activities.
Rural Aid 'Farm Rescue' is helping support Australia's rural communities and Aussie farmers by providing tangible resources to drought affected communities. In this instance the funds are being raised to finance several mini 'Farm Rescues'.
'Farm Rescues' entail a group of volunteers and some trades people visiting remote and rural areas to help fix infrastructure that farmers do not have the skill, time or money to do themselves.
Community members are also asked to nominate a farmer or farmers can nominate themselves as potential recipients of a 'Farm Rescue'. Farmers being nominated can live within an hours' drive or less of Forbes, and can register at www.farmrescue.com.au/farm-rescue.
For people wanting to do more, you can donate product, which could either be used for the auction or will be given directly to the farmers. You can also make a financial donation or volunteer to help. For more information visit the official 'Farm Rescue' website.
The winner/s of the 'Farm Rescue' will be announced at the auction and the entire town is invited to attend! The 'Farm Rescue/s' will be delivered during 14th to 20th October.