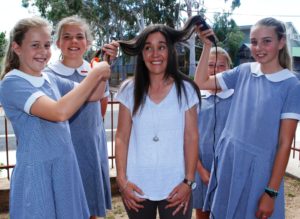 Carmen Spry signed up to make drastic changes to her appearance with the aim of raising funds for The World's Greatest Shave for the Leukaemia Foundation. On Thursday, 14th December at 2.30pm in the St Laurence's School hall in Forbes, Carmen will be shaving her beautiful long dark hair to help beat blood cancer. "My inspiration for doing this came from the amazing Garland girls. Especially after Scarlett Garland shaved her hair earlier this year in support of her little sister Ava, which is still undergoing treatment for Leukaemia.
"I decided to throw my hat in the ring and raise some much needed funds for families facing the diagnosis of leukaemia. Being a mother is by far my most loved and important role, and I want to support other mothers (and fathers and brothers and sisters) in their most challenging times. I have quite long hair so it's a pretty big call to shave it off," said Carmen.
As part of her fundraising, Carmen has held a cooking party, Bunnings barbeque, cake stall and morning tea. An ongoing raffle will also be drawn on the day of the shave. Her initial goal was to raise $2,000 but Carmen's commitment and passion for the cause has allowed her to already raise more than $5,000.
Students and staff at St Laurence's School where Carmen is a teacher, have supported and helped Carmen with her fundraising. Go to worldsgreatestshave.com and search Carmen Spry to donate to her page.
By Gizell van Wyk