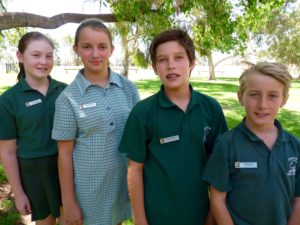 Despite the major disruption to school routines during the floods last year, the students of Bedgerabong School continued to shine.
Achievements in 2016 include: individual and team representation at NSW level in four sports, award winners at the Cowra and Forbes Eisteddfod, CWA public speak- ing and cooking honours, University of NSW competition awards and a sell-out performance at the Sydney Opera House as part of the NSW Small Schools Marimba Ensemble.
There are three classes at Bedgerabong this year with eight new kindergarten stu- dents: Kindie-Yr 2, Yr 3-4 and Yr 5-6 with small numbers in each class.
This year will maintain its focus on suc- cessful and enjoyable programs, such as the Get Yourself Moving (GYM) featuring circus arts and gymnastics. This includes unicycling, stilt walking, acrobatics, clown- ing and much more. It is a wonderful student engagement success story with students eagerly awaiting Thursdays to work on mas- tering their circus skills. The performing arts, Marimba, and kitchen garden, Tootie Fruity, programs will also be high on the kids to-do lists.
The technology program ensures one to one iPad usage from years one to six. The morning reading program, well supported by parents and community members, and the Community Connections program will continue this year, as well as the FISH Phi- losophy. It is a belief system with four simple goals to make Bedgerabong School a great place to be: Choose Your Attitude, Make Someone's Day, Be There and be Playful.
"We look forward to another industrious year full of new challenges and commitment to maintaining and achieving the high stand- ards we are accustomed to, after all… small schools are great schools!" said Principal, Paul Faulkner. Visit the school in person or on Facebook, Instagram and Twitter.