Seen at the President's Lunch on Saturday were (L-R) Susan Chau, Judy Cannon, Laruen McIntyre and Felicity Batkin.
Enjoying the President's Lunch were (L-R) Mick Prior, Debbie Prior, Mark Silcock and Karen Barlow.
Forbes Public School Principal, Dafydd Thomas (left) and students were grateful to Forbes Shire Council for their new water bottles and thrilled by a visit from Mayor Graeme Miller (middle) on Wednesday. Story next week.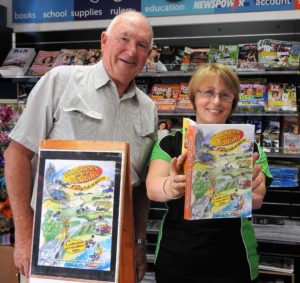 Author Barry Bredner introduced his latest book to Forbes residents last week. He is with News on Rankin employee Jayne Whitworth.