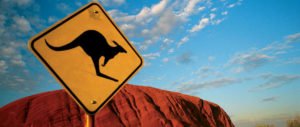 Image sourced from World Travel Guide
Barry Brebner had a lot of time to think and reflect whilst recovering from cancer in hospital. Reminiscing about the eight editions of Workabout Australia he wrote until 2011, Barry was motivated to start writing again. "During those years I met so many people who told me the most amazing travel stories," said Barry. "So I set to work and here is the result," he said proudly holding a copy of Workers on the Wallaby.
Barry was in Forbes last Thursday with his latest book meeting people at News on Rankin. He was happy to sell a book to a reader from his hometown of Dubbo, an- swered questions from the public and chatted to Forbes local, William Hodson who told him about his time working as a trailer driver in Cape York.
Workers on the Wallaby is a collection of 11 factual and very personal stories of people's adventures whilst travelling Australia. Barry tells of how one traveller who felt God's presence at Devil's Marbles, and of a couple who raised and educated their children on the road and how important their journey was to their childrens' education.
"Workabout Australia, is a book that every person thinking of travelling and or working around Australia should have," said Barry.
By Dianne Collie