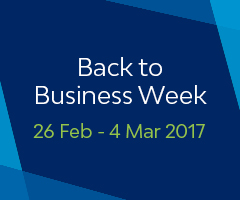 Forbes Shire Council is celebrating Back to Business Week with a networking event on 2nd March at 6pm at the Forbes Town Hall.
All businesses are invited to the social evening featuring guest speaker, Gary White, Chief Planner of the NSW Govern- ment's Department of Planning and Envi- ronment.
Gary is responsible for overseeing pro- jects that will deliver an easier and more ef- ficient planning system as well as providing expert advice on long-term projects. He will be speaking on megatrends and the impact on the Forbes economy.
Council's Facilities Maintenance Super- visor Mark Willis will provide an update on quoting and tendering for Council.
Back to Business Week is a NSW Gov- ernment initiative that celebrates small to medium businesses and promotes and sup- ports the critical role they play in local com- munities.
Mayor Graeme Miller said: "Gary will pro- vide a real insight into megatrends and how these impact upon local businesses both now and into the future."
The networking event is free and will in- clude drinks and nibbles. Please register by calling or emailing Economic Development Officer Sally Duff on 6850 2359 or sally. duff@forbes.nsw.gov.au by Tuesday, 28th February.