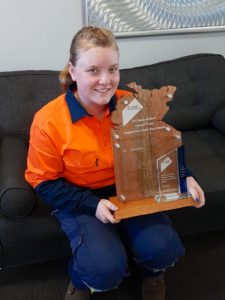 At 23 years of age former local Kacie Anderson is making waves in a male-dominated trade in the Northern Territory.
Last week she was awarded the Advanced Training International Overall Trade Appren- tice prize at the School of Trades annual presentation in Darwin.
The only female apprentice in her trade, Kacie was described as "an outstanding choice, having excelled academically and as a practitioner of her craft," by Roy Brandner, Head of School of Trades at Charles Darwin University.
Working as a boilermaker in Australia's tropical top end hardly sounds like anyone's dream job, but for Kacie, something she hadn't imagined doing has become a passion.
"My whole life I wanted to be a vet," said Kacie. "And now I want to get into welding inspection x-rays and ultrasounds, and focus on the quality and safety of welds and products."
Since leaving home, Kacie has travelled as far afield as Western Australia and north Queensland working in a range of jobs.
She has been a Jillaroo on a remote cattle station, a counter hand in a butcher shop and considered becoming a diesel mechanic.
But it was an offer to take up an apprenticeship with Jake's Steel and Welding that now has her calling the Northern Territory home.
So, what is it like being the only female in the workshop? "Being a female in a male dominant industry has its challenges. When I started I had to prove to the boys that I was capable of doing things myself. I knew I could work as hard as them."
She faced the challenges at trade school with the same attitude.
"I knew what was expected of me so I gave that, and more. I proved to the boys in my class that women can do this by re- ceiving high grades and paying attention to what was required."
Kacie's lecturers nominated her for the award after she wrote a letter to apply for a National Association of Women in Construction scholarship.
When Kacie received the email telling her she'd won, she couldn't believe it.
"When I got back to work everyone was waiting for me and someone had written 'Congratulations, Kacie' on the whiteboard in the smoko room. They just treat me like one of the boys."
Kacie's message for anyone not sure what to do when they finish school is: "Take every opportunity that comes your way because you will always learn from them whether they work out or not. It's all life experience, and it becomes a part of who you are as a person."
"Never give up. The tough times make you stronger and you will get a great sense of accomplishment when you do get through
them." By Rochelle Bright