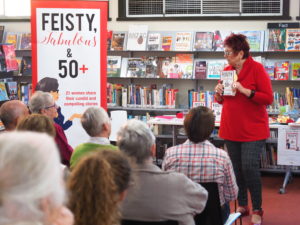 A group of 13 community members from Forbes and Parkes were treated to an engaging and thought-provoking discussion with Blue Mountains-based author Julie Ankers at the Forbes Library on Tuesday.
Julie is currently touring New South Wales promoting her first book, Feisty, Fabulous and 50+. It is a collection of candid and compelling autobiographical stories of Australian women.
This was Julie's first visit to Forbes and in opening she spoke of her journey to be- coming a self-published author after facing feelings of loss and isolation in semi-retirement.
Julie read moving excerpts from the book to the group, including verses from Young's Rhonda Daly, recounting her exposure to toxic farm chemicals as a child and the resultant health battles. Another passage came from a woman who left her unfulfilling inner-city life and now offers garden maintenance services, driving a ute and wielding chainsaws, whipper snippers and secateurs.
The book took two years to complete and features diverse, down-to-earth, fabulous women. "It is an honour to be the curator of their stories," Julie said. "These are ordinary women, just like you and I".
Travelling with Julie is the book's editor, Kerry Chater, whose story is one of the 21 featured in the book.
"These events give a rare opportunity to hear about a book from the author themselves," said one guest, while others enjoyed the opportunity to make new connections in the community.
On the back of the success of this book, Julie is now working on the companion piece, the much-anticipated untold stories of men, which is set to be released in early 2018.
By Carrie Olsen