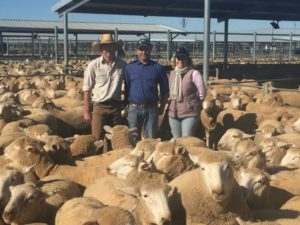 Once again the Forbes Central West Livestock Exchange (CWLE) is proving to be a livestock selling centre of national significance with an Australian record set at this week's sheep sale.
A pen of prime second cross Dorset lambs was sold for $260 by vendors Mathew and Joanne Randall from Trundle.
Agent Randall Grayson from Forbes Livestock (FLA) was the agent orchestrating the sale.
General Manager of Forbes Shire, Steve Loane said that the Central West Livestock Exchange continues to be a major asset for the community of Forbes.
"Even in these drier conditions we are seeing some big yardings and quality livestock," said Steve. "A big congratulations to the vendors and their agent."
The Central West Livestock Exchange is looking towards an expansion so that livestock movement through the facility can be made more efficient. This will greatly improve saleyard operations, lifting Forbes into the top five cattle selling centres in the state.
The Central West Livestock Exchange has an annual combined throughput of 1.5 million sheep, cattle and pigs.