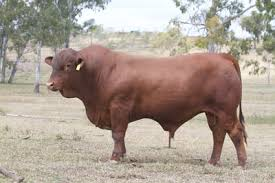 Australian breed records tumbled at the annual 5 Star Senepol Sale held two weeks ago at CQLX Gracemere, Queensland.
For vendors, Geoff and Alison Maynard and family, the 5 Star Senepol Sale saw a new breed record established at $27,000 and bulls sold to all parts of Queensland and also to Western Australia.
Sarah and Clayton Maynard of Southern Star Rural (Canowindra) sold eight bulls through the 5 Star Sale this year. Southern Star Rural managed the top price for a Senelais (Senepol/Charolais) bull at $8,000 and also the top priced Senegus (Senepol/Angus) bull at $7,000.
Earlier this year, Senepol Stud Southern Star Rural recorded the highest midterm weight gain during the prestigious Callide Dawson Beef Carcase Competition in Queensland, with a Senepol/Angus steer gaining a whopping 4.6kg per day. This is the highest mid-term weight gain recorded in the 30 year history of the competition.
On the day, 65 bulls were sold with an average of $6,677 a top of $27,000 and a 93 percent clearance rate.
Buyers who were focused on Senepols, provided the vendors with a bottom line average of $7,425 for the 40 pure bred Senepol entries on offer.
Seven three quarter Senepol/one quarter Shorthorn bulls topped out at $6,500, while six Senegus bulls hit $7,000 and six Senelais entries peaked at $8,000.
Topping proceedings and new breed record holder was the $27,000 5 Star M71013, a 22-month, 772kg, 12/9mm, 133EMA son of Antigua Dalgada (CBN Alcoota) selling in a three quarter share full possession arrangement to Chris Simpson, CAP Genomics, Brisbane.
CAP Genomics took three to average $13,167. Regular supporters, Alistair and Jo McClymont, Burleigh Station, Richmond acting again through Ken Roche, Marlborough, took four Senepols for an average $10,125. These included the $13,000 5 Star M70782 a 17-month-old, 678kg delivering a rib eye measurement of 110sq cm.
M70782 was the first sale progeny of one of the studs leading sires, 5 Star Hefner 140634.
For more information on pure bred Senepol and Senegus or Senelais Bulls on offer in Canowindra please contact Clayton Maynard on 0439 029 204.