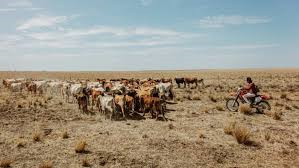 The state's peak business organisation, the NSW Business Chamber, says there is urgent need to help offset the devastation of the drought on the farming and regional business communities in NSW.
A report released this week by the Australian Bureau of Agricultural and Resource Economics and Sciences, shows that in NSW, broadacre farm incomes are set to fall by 51 percent in 2018-19, with farms expected to lose $69,000 on average.
"This is the worst performance of any state in the country," said Western NSW Business Chamber Regional Manager, Vicki Seccombe.
"The effect of the drought is particularly bad in the Far West of NSW. Broadacre farm incomes are expected to be just $3,000 for the year, with the average farm set to lose a shocking $276,000 because of the impact of the drought. That follows a loss of nearly $90,000 the year prior.
"In the central west of NSW, farm income is expected to drop nearly 60 percent in 2018-19, with the average farm set to lose $81,000 for the year after losing about $30,000 the year prior".
"This is a natural disaster on any definition, not just for the farmers themselves, but for our entire community. These types of events have a catastrophic impact on regional businesses impacting regional employment and small and local businesses.
The NSW Business Chamber is calling for immediate action to help provide relief," said Vicki.
The NSW Business Chamber is calling on the next government of NSW to:
• Establish a Natural Disaster Recovery Fund to assist businesses and communities to mitigate the ravages of natural disasters.
• Abolish stamp duty on insurance premiums for commercial and business premises to increase insurance coverage.
• Allow flexible payroll tax payment arrangements for businesses impacted by natural disasters.