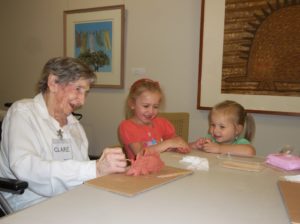 The 12-week pilot Art Connection program for Jemalong Residential Village (JRV) participants ended on a high note with an exhibition
this week open to family and friends. "When I saw the exhibition, I became teary. We underestimate those with cognitive impairment and it just makes my heart sing when I see how they talk through their artwork," said JRV Pastoral Care Coordinator, Gwen Barnard
The exhibition opening was very exciting. Participants beamed with pride, proudly standing in front of their artworks for photos. JRV employees and the families have requested the artworks to be placed around the facility. The Art Connections program is a partnership between JRV, ArtsOutWest and the Bathurst Regional Art Gallery (BRAG). The purpose is to provide participants with an intellectual and sensory stimulating program. Unfortunately, this is not always provided to people with a diagnosis of dementia so they often become socially isolated.
The Art Connections program endeavours to break down those walls, build relationships and provide an avenue for residents to express themselves in a safe environment. The weekly workshops incorporated both discussion as well as practical art work. The first half of the session centered on discussions loosely centered around various artworks, where memories and stories were shared. Participants discussed what they liked about an art piece, for example, the colour, lines, or shapes that appealed. Acceptance of silence is paramount during conversations with people with dementia as they may become quickly confused so the conversation ceases if they are interrupted by prompting or asking additional questions.
The second part of the workshop entailed the participants producing their artwork either by painting, sketching, modeling clay or the use of building blocks. "The benefits to the JRV residents has been startlingly evident," said Merryl Morris, Reactional Activity Officer at JRV. "To
see residents expand their minds and their world around them through this program is very exciting."
By Dianne Collie