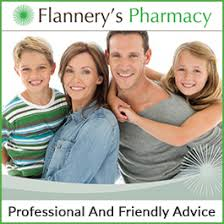 Flannery's Pharmacy will be hosting a Bone Density Clinic in-store on Wednesday, 29th August.
Your bones are living tissues that are both flexible and strong. They act to support and move your body, protect your organs, create white and red blood cells and to store essential minerals like calcium and phosphorus. Throughout your life your bones are always changing and remodelling. You can think of it like a bank account, into which you make deposits and withdrawals.
"Osteoporosis occurs when too little bone is formed, too much bone is lost, or a combination of both occurs," said Tracey Edwards, Pharmacist at Flannery's Pharmacy.
"When this happens your bones become more brittle and can fracture more easily," said Tracey. "Ideally, you will have made more 'deposits' than 'withdrawals' during your early years to create the strongest bones possible".
Risk factors for osteoporosis include increasing age, being female (especially post menopausal), a family history of osteoporosis and/or a history of fractures as an adult. Lifestyle risk factors include low dietary calcium intake, low vitamin D intake, low levels of physical activity, excessive alcohol intake, smoking and low or excessive body weight.
"The heel ultrasound test offered by the pharmacy is a screening test that gives a snapshot of your bone health," said Tracey.
"Screening tests alone cannot accurately diagnose osteoporosis but they can be used in conjunction with your personal risk factors so that you and your GP can decide which course of action is best for you".
If you would like an appointment for the Bone Density Clinic, please call instore or phone Flannery's Pharmacy on 6852 1111.
Cost is $20 and bookings are essential.