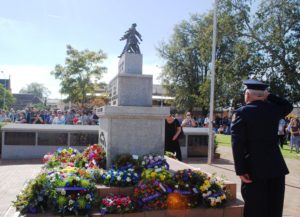 Masses of men, women and children gathered in Forbes on Wednesday to remember and recognise the service and sacrifice of Australian service men and women.
Locals and visitors attended the commemorative Forbes Anzac march and service. The Anzac march, via Lachlan and Court Streets to the Cenotaph in Victoria Park, saw hundreds of people line the streets.
Schools, community groups and ex-service personnel were brought together to pay their respects, mourn with pride, and remember with equal pride, those that have served and still live. Also to give gratitude for the peace we enjoy, and acknowledge, the responsibility of ensuring the freedom and liberty so costly won is not lost by our own indifference.
Captain of Red Bend Catholic College, Jackson Burton delivered the commemorative address, during which he paid tribute to his great, great grandfather William Colless.
"Being able to pay respect to Australian troops on Anzac Day has been and will continue to be a vital part of what defines me as an Australian."
"I hope that by honouring these people we can continue to pass down the Anzac legacy to the youth of our town for the continuation of its fundamental values."
"Having past down these to future generations, other young people may experience that amazing feeling of reflecting on the era that made Australia the place it is today," said Jackson.
Part of the service included a multitude of Forbes community groups, businesses, families and individuals laying wreaths.