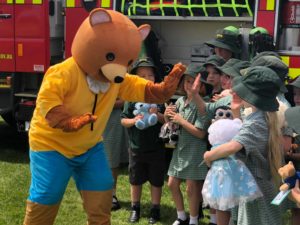 What could be better than having a picnic in the park… having a teddy bear picnic in the park of course! Hundreds of children made their way to Nelson Park last Thursday to enjoy a picnic with their favourite cute and fluffy teddy bears.
The third annual Teddy Bear's Picnic offered a rather windy, hot summer day and lots to do for children, family members and of course the special teddy bear guests.
Nelson Park was turned into a funland with games, crafts and entertainment for all to enjoy. Free entry and a scrumptious sausage sizzle provided by the Lions Club was also offered.
There was a very popular teddy bear bag toss and a bubble station for a burst of fun. Some kids spent most of their time bouncing in and out of a brand new jumping castle, while others took advantage of a face painting make-over provided by Council and Bunnings. It was evident from all the little butterflies, flowers, tigers and Spidermen scurrying about that the face-painting was a popular choice for children.
The Rural Fire Service surprised unexpected picnic-goers with a splash of refreshing water. As if all of this wasn't exciting enough the toy library, bandage a teddy bear, obstacle course and kids play gym also supplied hours of entertainment.
There were also hundreds of free teddies given to children who attended the picnic festivities.
The community groups that supported this event helped create a lovely atmosphere.
By Gizell van Wyk