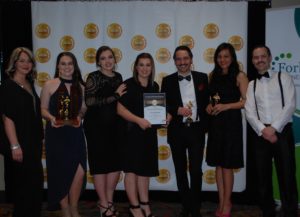 It was a night of glitz and glam as guests strolled onto the red carpet at this year's Boscars Gala Dinner held last Friday at the Forbes Services Memorial Club. Attendees were welcomed at the Forbes Business Awards with tasteful decor of The Godfather theme making this annual event even more thrilling.
The evening's Master of Ceremonies, Chris Baker, entertained guests with his quick wit and sharp humour as nominee finalists awaited in eager anticipation for the award winners to be announced.
Loud applause and cheers erupted when Forbes Family Dentists was announced as the Business of the Year winner sponsored by Evolution Mining. This award is given to the most outstanding business which has demonstrated excellence across all areas of operation. They were also the winner of the Excellence in Small Business (under 20 employees) award. On acceptance of the award, Dental Assistant at Forbes Family Dentists Tabitha Blake said, "This means the world to all of us. We all really love our jobs and we all love all of our patients."
Among the guests were Forbes Business Chamber President Brett Rout, guest speaker Neil Druce from the Junee Licorice Factory, Minister for Small Business Michael McCormack gave the  introduction to awards, MP for Orange Philip Donato and Forbes Mayor Graeme Miller.
A number of the award categories are aligned with the NSW Business Chamber. Winners of those categories can progress directly as finalists to the 2018 Western NSW Business Awards.
A full list of the award winners and photographs can be seen on The Forbes Phoenix Facebook page.