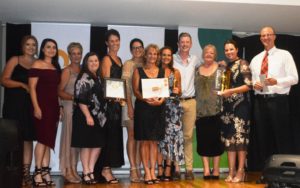 The BOSCARS Forbes Business Awards gala dinner once again shone light on some of our best local businesses and their employees.
The dinner was held last Friday evening at the Forbes Services Memorial Club and with its charismatic theme a 'Midsummer Night's Dream' attendees arrived in their best attire.
The BOSCARS are the premier business recognition event in Forbes and is presented by the Forbes Business Chamber. The awards celebrate businesses in the Forbes region and publicly promote and reward business excellence.
The category winners were:
• Excellence in Business (20 or more employees): Powertools Plus
• Excellence in Social Enterprise: Kate Ralph of Elevate Dance Studio
• Excellence in Small Business (under 20 employees): Flannery's Pharmacy
• Excellence in Innovation: Life Pharmacy
• Employer of Choice: Flannery's Pharmacy
• Apprentice or Trainee of the Year: Jessica Byrnes of HE Silos
• Business Leader of the Year: Debbie Prior of Flannery's Pharmacy
• Employee of the Year: Michelle Grace of Flannery's Pharmacy
• Young Entrepreneur (Age 18-35): Kristen Woods of Kristen's Dance Studio
• Start Up Superstar: Made of Fridays
• People's Choice Tradie of the Year: Anita Wesley of Forbes Vet Clinic
• People's Choice Most Popular Business: Sweet Three Vintage Van
The BOSCARS Business of the Year is awarded to the most outstanding business which has demonstrated excellence across all areas of operation. The winner is selected from the winners of all categories. This year, Flannery's Pharmacy was named Business of the Year.