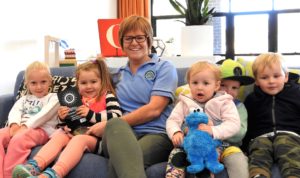 Amy Shine, director of Forbes Preschool has won the Business Leader Award at the 2017 Western Regional Awards. Amy is now a finalist in the 2017 State Awards.
"This was totally unexpected, I didn't have one thought of winning," said Amy. "Unfortu- nately, I did not attend the presentation held at Taronga Western Plains Zoo last Friday due to other commitments, but I will most definitely be heading to Sydney in Novem- ber for the state award presentation."
The Business Leader award recognises the positive contribution made to business by those who demonstrate outstanding en- trepreneurial spirit, strategic business direction and innovative ideas, whilst providing inspiration to a new generation of upcoming business leaders.
Forbes Preschool is a community-based service, which ensures all children aged three to five years of age have access to affordable, high quality, early childhood education.
Amy's goal is to inspire others to see the importance of early childhood education and realise the impact it will have on the com- munity for years to come. The preschool also provides pre-kindy children access to an occupational therapist and speech thera- pist free of charge. All this has been made possible through Amy's vision, lobbying to secure around $1.5 million in funding an development of partnerships within the community.
Beck Cheney, Simone Newell, Carly Keane and Sally Male, four of the 17 em- ployees at Forbes Preschool were unani- mous in describing Amy as being "very approachable, an inclusive leader and outstanding communicator". They also said that Amy was "very passionate about providing free flow indoor/outdoor play, and through her coaching and encouragement to attend professional development, we support her to achieve this vision for all Forbes children".
"It's about thinking outside the square, constant reflection and continuous improvement but most of all loving your work," said Amy.
By Dianne Collie