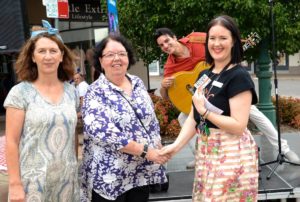 The Amazing Forbes Elvis Breakfast will once again wow visitors in Forbes on Saturday, 12th January 2019. Set to bring all the fun of a 60's, 70's retro carnival to Forbes, the Amazing Forbes Elvis Breakfast will feature food vans, live entertainment, kids activities and much more… all in the heart of Forbes CBD.
Join us in Templar and Rankin Streets from 7am for free live entertainment from International Elvis tribute artist, Che Orton, followed by chilled tunes from local artist, Adam Enslow until midday. Tantalize your tastebuds with visiting food vans. Featuring fairy floss, bagels, old-fashioned lemonade and popcorn as well as local retailers featuring special Elvis-inspired menus. The kids will be kept entertained with face painting and free rides including a massive jumping castle and bucking bull, along with retro carnival-inspired activities throughout the morning.
"We are thrilled to be once again hosting the amazing Forbes Elvis Street Breakfast," said Mayor of Forbes, Phyllis Miller OAM. "Last year was a raging success and this year is set to be just as much fun!" "I'm especially looking forward to trying out some special Elvis-inspired treats from our local cafes and we have a great range of local food vans joining the party including Sweet 3 Vintage Van, Benny's Bagels and Bakery and Steve's Mega Treats," she said.
Take advantage of special deals and discounts from local retailers, only available during the Festival period (Thursday, 10th to Sunday, 13th January). All can enjoy a relaxed breakfast before the special shuttle bus departs at 9am to transport festival goers from Forbes CBD to Parkes, arriving right on time for the Northparkes Street Parade.
For more information about the Amazing Forbes Elvis Breakfast, contact Forbes Shire Council on 6850 2300.